GRINDER
Are you very much addicted to playing Grinder 15K at khelo365? As Khelo365 has noticed that a lot of players have been attracted to Grinder 15K they have decided to extend and improvise this by introducing a version called GRINDER2.0. It is a very exciting theme that has an upside like winning huge prizes with very minimal buy-in. The people at Khelo365, are trying to provide the best platform and promo codes possible for players like you as the satisfaction of their customers is the most important thing for them. They have upgraded the 15K to 20K in the new version GRINDER 2.0.
The players willing to join can get free tickets to this tournament by making a deposit of just Rs.1000 along with the bonus code: GRINDER. If you are new to this and did not try any of their promotions, then GRINDER2.0 will be a great start for you since you will be able to expose all the skills at the same time and can even get as lucky as winning up to 20K GTD only at this amazing site khelo365.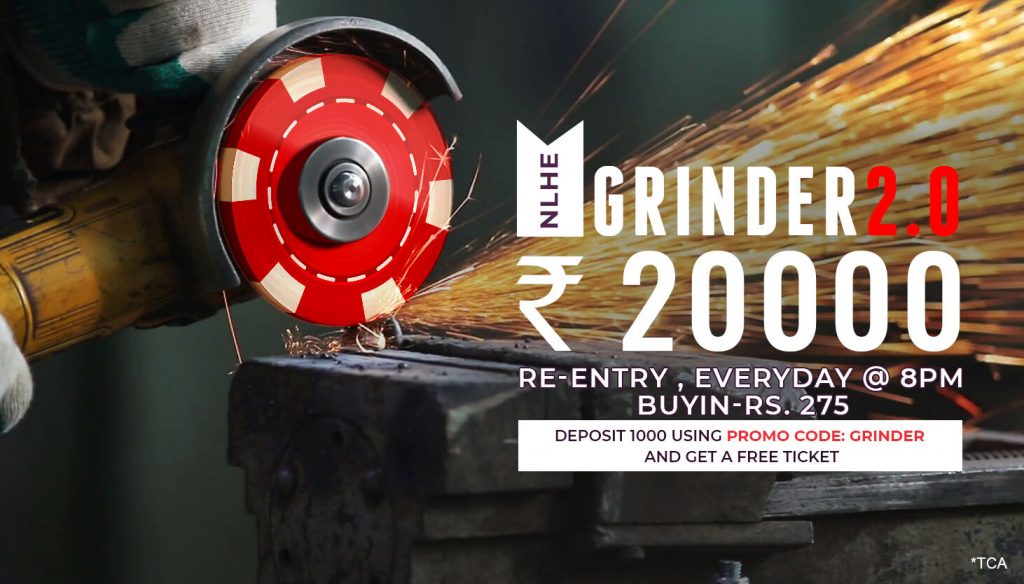 Terms and Conditions
Players who will want to get hold of the tickets will need to generate 50 loyalty points before you try to cash out.
In the case of any disputes, the Khelo365.com site will have the final decision makings and the bindings.
KICKSTARTER

This bonus code starts rolling on every first Friday of the month starting from April of 2020. You can avail your free ticket for this mega code by just making a deposit of Rs.15K along with using the bonus code: KICKSTARTER.
The rules are as follows:
All the players who enjoy these challenges and are also prepared to take up the hard and strong way, need not wait for extraordinary opportunities, they get to seize these common occasions and try to make them as great as possible.
Option 1 – BUY IN AMOUNT OF Rs.10/-: You can play the daily satellite of Rs.10 buy-in at the timings 12 PM, 3 PM and 5 PM along with a free ticket for the other Satellite at 7.30 PM every day. Only the top 5 players will be provided with tickets.
Option 2 – BUY IN AMOUNT Rs.100/-: You can play the daily satellite of Rs.100 buy-in at the timing of 7.30 PM along with a free ticket. Only the top 2 players will be provided tickets.
Terms and Conditions
All the players will need to generate 700 loyalty points to unlock the ticket.
You will have to deposit along with the Bonus Code to get the locked Ticket.
You need to fulfill all the loyalty points criteria within the stipulated time of 15 Days.
This unlocked ticket has an expiry date of 2 months.
Khelo365 reserves all the rights to make amends or cancellations of any tournaments without prior notice.
Tickets of this bonus code cannot be used for other ones.